Point Mobile PM451 Handheld Computer
Point Mobile PM451 Mobile Computer
BRING SUPERIOR 4G CONNECTIVITY TO YOUR WORKPLACE
Point Mobile PM451 is IP65 tuned and comes with a 2.2GHz Octa-core processor with 4GB RAM and 64GB ROM. Choose between three keypad options, various scanner engines and the optional gun handle which makes Point Mobile PM451 the perfect choice for the warehouse.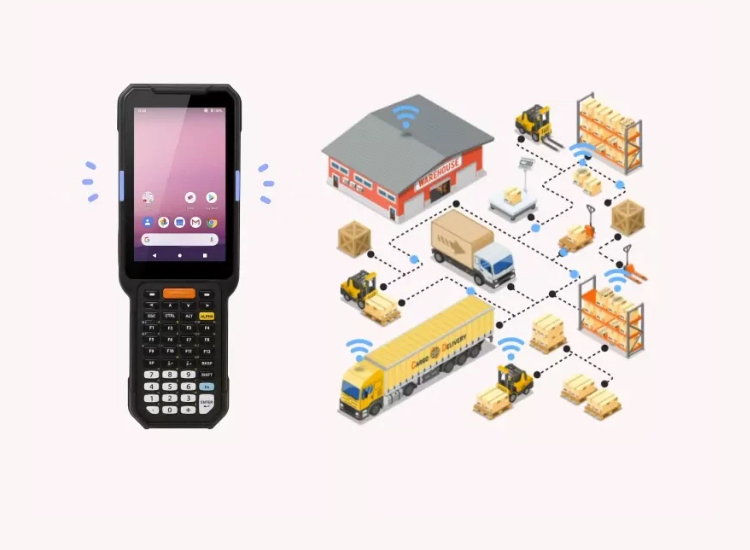 Making outdoor tasks easier with LTE connection
The optional LTE option lets your employees continue to do their tasks without worrying about losing the network connection. Now being able to make data input/output with seamless connectivity, your workers will be able to handle all warehouse logistics problems with ease – no matter where they are.
Revolutionize the way you capture data
Point Mobile PM451 is designed to run Android, the operating system of choice when it comes to rugged handheld terminals used in the warehouse. Accompanied by Point Mobile's unique Enterprise Mobility Kit (EmKit™), this device provides a fast and seamless user experience, minimizing the time and resources for training your workforce.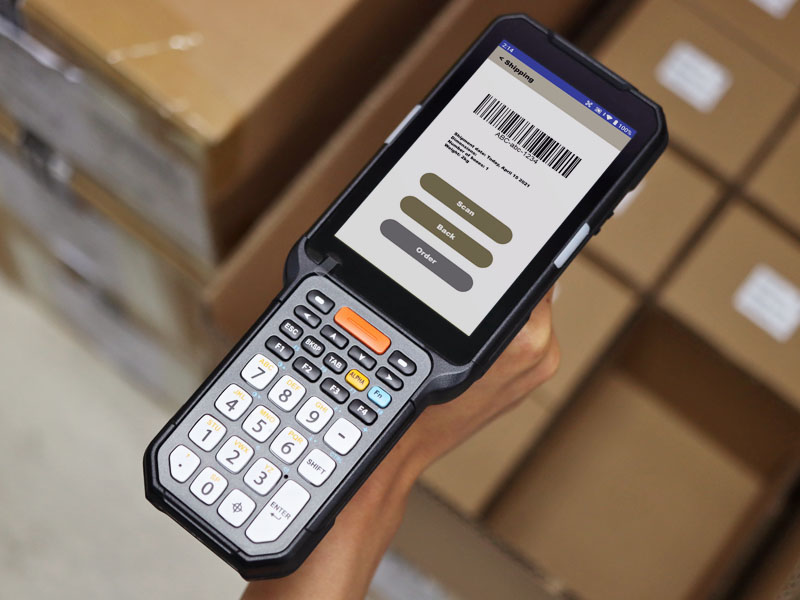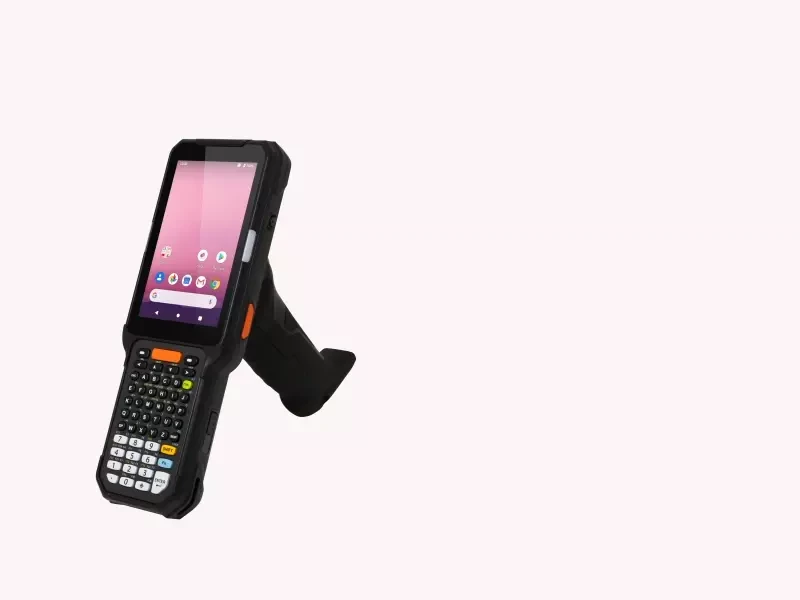 Configure the Point Mobile PM451 just as you need it
The standard range 1D/2D imager reads all GS1 symbologies as well as poorly printed barcodes. You can opt for the extra long range imager version that scans barcodes from a distance of up to 29 meters. Two LED indicators on each side will instantly give you information about scanning. In addition, as an effort to meet various needs of our customers, Point Mobile PM451 will come with three types of keypad options which are numeric, function numeric and alpha numeric. Finally, the ergonomically designed optional gun grip will further increase the productivity of your workforce.
Point Mobile PM451 Specifications
FEATURES
---
Camera
Top 13MP with LED flash (optional)
DIMENSIONS
---
Dimensions
214.94mm L x 77.26mm W x 39.25mm D
8.46 in. L x 3.04 in. W x 1.55 in D

SCANNING SPECIFICATIONS
---
Decode Capability
1D barcode scanner SE965
1D/2D barcode scanner N6703
1D/2D Long Range EX30
NETWORK
---
Bluetooth Specifications
Integrated Bluetooth Class I, Ver. 5.0 BLE support
NFC
Integrated Near Field Communication
WLAN
IEEE 802.11a/b/g/n/ac/d/h/i/k/r/v
5GHz: 802.11a/n/ac: Up to 866.7 Mbps
2.4GHz: 802.11b/g/n: Up to 300 Mbps
WEP (40 or 104bit), WPA/WPA2 Personal (TKIP, AES), WPA/WPA2 Enterprise (TKIP/AES) – WPA3 Personal(SAE), WPA3 Enterprise(AES) WPA3 Enterprise 192-bit mode(GCMP 256)
Enhanced Open(OWE) PEAP (MSCHAPv2, GTC), TLS, TTLS (PAP, MSCHAP, MSCHAPv2, GTC) PWD, SIM, AKA, AKA', LEAP
CCKM, 802.11r
WWAN
EDGE/GPRS/GSM 900/1800/850/1900
WCDMA B1/2/5/6/8/19
LTE FDD B1/2/3/4/5/7/8/12/13/ 19/20/25/26/28
LTE TDD B38/B40/41
SOFTWARE & FIRMWARE
---
Operating System
Android 9 or 11
MEMORY & DATA
---
Memory

4 GB RAM / 64 GB Flash
Storage
Supports up to 512GB using ExFAT file system
HARDWARE
---
Display Resolution
IPS panel (480 x 800 pixel) WVGA
Daylight readable (500 nits typical)
Processor
Qualcomm® SDA660 2.2GHz Octa Core
ELECTRICAL
---
Battery Type
STD Battery
5,700mAh Li-ion rechargeable
OPT Battery
4,000mAh Li-ion rechargeable
ENVIRONMENTAL
---
Storage Temperature Range
-25°C to 70°C  (-13°F to 158°F)
Operating Humidity

0 – 95% Non-condensing
Operating Temperature
-20°C to 60°C (-4°F to 140°F)
STANDARDS & APPROVALS
---
Drop Specifications
MIL-STD-810G for multiple 1.8m (6ft) drops
on concrete
SERVICE TERMS
---





If you have a problem with your Point Mobile PM451 then pleaase use the link below to get an online RMA
Request a Quote
Do you need a number of terminals. Let us know the hardware configuration and we'll get back to as soon as possible.
Request Help
If you need any technical assistance regarding your terminals then please dont hesitate to contact us.
Knowledge Base – Point Mobile PM451
Soft Reset - Warm Boot
Point Mobile PM451 Soft Reset – Warm Boot
Perform a soft reset if applications stop working.
1. Press and hold the Power button until the menu appears.
2. Touch Restart.
The device reboots.
Hard Reset - Cold Boot
Point Mobile PM451 Hard Reset – Cold Boot
CAUTION: Performing a hard reset with a microSD card installed in the device may cause damage or data corruption to the microSD card. All un-saved data is lost after performing a hard reset.
To restart the computer if the touch panel display is unresponsive:
Press and hold the

Power

button for over 12 seconds to force reboot.
Press and release the Reset Hole and then turn on Point Mobile PM90 again
Factory Reset
Point Mobile PM451 Factory Reset
A full factory reset should only be performed if you have exhausted all other troubleshooting options.
Caution: Factory data reset will erase all personalized settings and data saved in the device, such as Google account, apps, user data, etc. the factory data reset cannot be undone.
Note: This method of recovery may not be available if your system administrator has set policies to prevent the reset use.
Before you begin
If you added a Google Account to the mobile computer, make sure you have your Google username and password associated with the computer. If you do not have the username and password, you will not be able to use the mobile computer after the reset. This is a security measure that prevents unauthorized users from using the device if they try a Full factory reset.
If you did not add a Google Account to the mobile computer, the extra security level is not enabled, and you will not need a Google username and password.
If you recently reset your Google Account password, wait 24 hours before performing an Enterprise data reset.
Connect the computer to an external power source or make sure you have a full battery charge.
Make sure you have an Internet connection.
Factory Reset the Mobile Computer – From the Operating System
Swipe up from the bottom of the home screen to access all applications.
Select Settings > System > Advanced > Reset Options.
Tap Erase All Data (Factory Reset)
Tap Reset Phone.
If prompted, type your screen lock security patter, PIN, or password, and tap Next.
Tap Erase Everything. A message appears informing you an Enterprise Data Reset is being performed.
Terminal will reboot.
Factory Reset the Mobile Computer – From the Bootloader/Recovery Mode
Press and hold the Power Button.
From the menu that will appear on the screen select to Power Off.
Press and hold Power Button, P2 (Soft Right) and Front Scan buttons simultaneously.
After short vibration, release the Power Button.
Using the keys below, select Wipe data/factory reset

Move down / up – Press P1 (Soft Left) / P2 (Soft Right) button
Select the menu – Press Power Button or Enter Key

After wiping the data, select Reboot System Now
Terminal will reboot.
P451G6Y24DFE0C Point Mobile PM451 –

Android 9, LTE, WiFi/BT, 4G/64G, Numeric, N6703 2D imager, extended 5700mAh battery

P451G6Y64DFE0C Point Mobile PM451 –

Android 9, LTE, WiFi/BT, 4G/64G, Alpha Numeric, N6703 2D imager, extended 5700mAh battery

P451G6IB4DFE0C Point Mobile PM451 –

Android 9, LTE, WiFi/BT, 4G/64G, Function-Numeric, EX30 long range scan engine, extended 5700mAh battery

P451G6I64DFE0C Point Mobile PM451 –

Android 9, LTE, WiFi/BT, 4G/64G, Alpha Numeric, EX30 long range scan engine, extended 5700mAh battery

P451G6T24DFE0C Point Mobile PM451 –

Android 9, LTE, WiFi/BT, 4G/64G, Numeric, SE965 1D scan engine, extended 5700mAh battery

P451G6YB4DFE0C Point Mobile PM451 –

Android 9, LTE, WiFi/BT, 4G/64G, Function-Numeric, N6703 2D imager, extended 5700mAh battery

P451G6T64DFE0C Point Mobile PM451 –

Android 9, LTE, WiFi/BT, 4G/64G, Alpha Numeric, SE965 1D scan engine, extended 5700mAh battery

P451G3YB4DFE0C Point Mobile PM451 –

Android 9, WiFi/BT, 4G/64G, Function-Numeric keypad, N6703 2D imager, extended 5700mAh battery

P451G3IB4DFE0C Point Mobile PM451 –

Android 9, WiFi/BT, 4G/64G, Function-Numeric, EX30 long range scan engine, extended 5700mAh battery

P451G3I64DFE0C Point Mobile PM451 –

Android 9, WiFi/BT, 4G/64G, Alpha Numeric, EX30 long range scan engine, extended 5700mAh battery

P451G3I24DFE0C Point Mobile PM451 –

Android 9, WiFi/BT, 4G/64G, Numeric, EX30 long range scan engine, extended 5700mAh battery

P451G3T24DFE0C Point Mobile PM451 –

Android 9, WiFi/BT, 4G/64G, Numeric, SE965 1D scan engine, extended 5700mAh battery

P451G3Y64DFE0C Point Mobile PM451 –

Android 9, WiFi/BT, 4G/64G, Alpha Numeric, N6703 2D imager, extended 5700mAh battery

P451G3Y24DFE0C Point Mobile PM451 –

Android 9, WiFi/BT, 4G/64G, Numeric, N6703 2D imager, extended 5700mAh battery

P451G3T64DFE0C Point Mobile PM451 –

Android 9, WiFi/BT, 4G/64G, Alpha Numeric, SE965 1D scan engine, extended 5700mAh battery