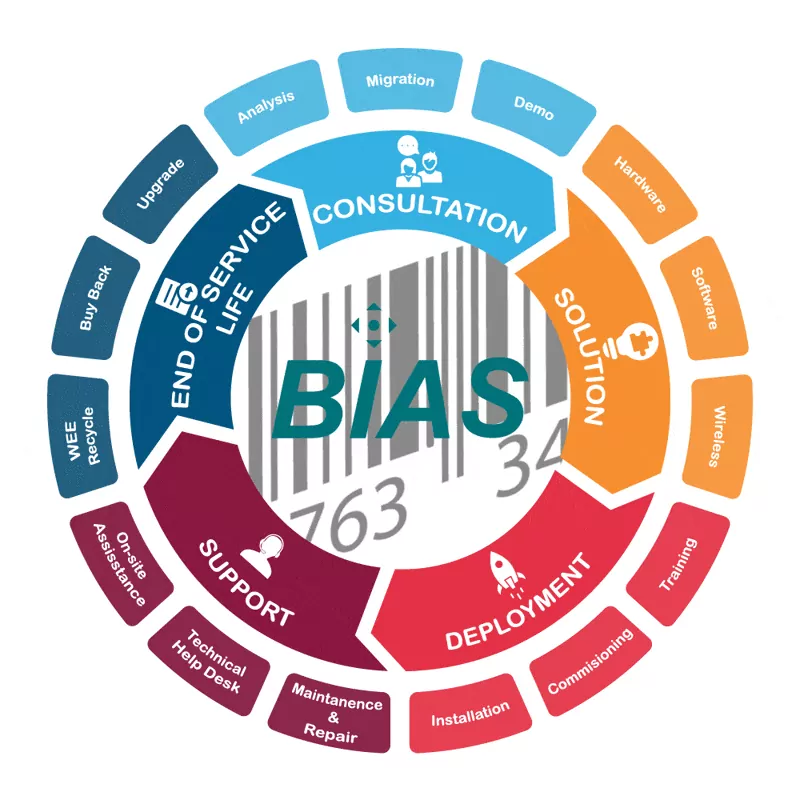 BIAS Life Cycle
Barcode scanner repair is our main focus, but we deal with complete server to user connectivity and all the systems inbetween, from software, wireless and printer media.
Mobile computing and the use of barcode technology has for the past several decades been changing the way we do business. We at BIAS have a wealth of knowledge encapsulating mobile technology and the barcoding industry. As such, we are well positioned to assist and advise companies through the decision making process.
We pride ourselves in understanding your business needs, from a simple digital stock taking solution to a complete warehouse management system. We fit our services to meet your business requirements. Choosing the hardware is just one element in this decision making process. Not only does the chosen hardware need to provide a good Return On Investment, but it also needs to have the right features for your business.
Barcoding Equipment Supply and Maintenance - UK and Europe
We provide high quality technical expertise and a commitment to providing a first class level of pre and after sales service, BIAS can provide for all of your barcoding requirements, ranging from maintenance of your equipment to the supply and installation of any specialised projects.
Authorised Barcode Resellers
We are authorised resellers of barcode equipment from top brands including Motorola, Honeywell, Intermec, Zebra and Datalogic as well as downstream equipment by Ubiquity.
Find Out More About the Brands:
Fruit Case Study
In 2008, a grower, packer and supplier of fresh fruit and vegetables, based in Spalding with approximately 200+ employees. The company supply to all sectors of the UK Market.
The company was moving premises to a new site. However the new site was an old production facility with storage sheds.
College Case Study
The College base in Bournemouth and Poole have approximately 11,000+ students attending the various courses from English & Maths through to various forms of engineering and construction.
The College has 3 main stores location held within its Poole site
M3 Case Study
In 2013, M3 Mobile (a South Korean based manufacturer of Barcode products) were experiencing aftersales service issues with its then UK based service provider.
It was brought to the attention of the M3 Mobile UK Sales Manager to find a more reliable and efficient service company to assist M3 Mobile