Unitech EA520

Rugged Smartphone
Unitech EA520 Rugged Smartphone
IP67 rating + 1.5m drop protection | Removable 4250mAh battery | Superior Barcode Reading (30 scans/sec)
Introducing the Unitech EA520, the 5" cutting-edge rugged smartphone delivers powerful barcode reading performance, convenient connectivity, durable but the lightweight design that just fits in the palm of your hand. This enhances the service level for various vertical applications within the retail, hospitality, and field service sectors.
Features
5-inch display with 450nits sunlight readabl
Android 11 OS with GMS Certification
Support most 1D / 2D barcodes on mobile screens, even DPM barcodes
Lightweight design that just fits in the palm of your hand.
All-In-One functionality: HF/NFC and 13MP camera
Rugged: Corning® Gorilla® Glass 3 touch display, IP67 rated, and 1.5M drop (1.8M with boot case)
Long-lasting removable 4250mAh battery
Support Bluetooth® 5 / dual-band WLAN, fast roaming / 4G LTE
Support MDM Software Solutions and utilities such as MoboLink.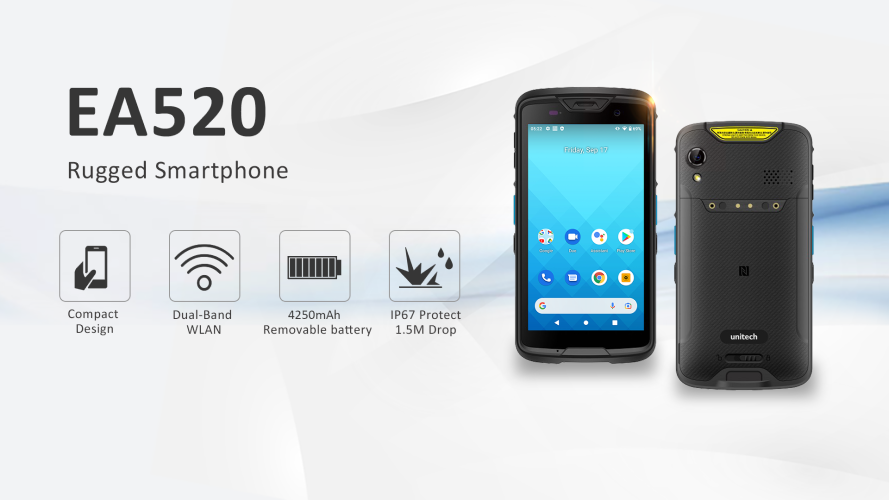 Portability for Better Retail Associate Experience
Powered by the Android 11 OS with GMS certification, the Unitech EA520 is equipped with an octa-core CPU to deliver users excellent performance for smarter, more intuitive interactions. Specially designed for portability and versatile functionality, this device is easy to carry around for inventory checking, communicating with supervisors, supporting customers on the sales floor that redefines the retail associate working experience with convenient tools.
Android 11: Operation System
GMS: Certification
Octa-Core: CPU
6 GB RAM / 64 GB Flash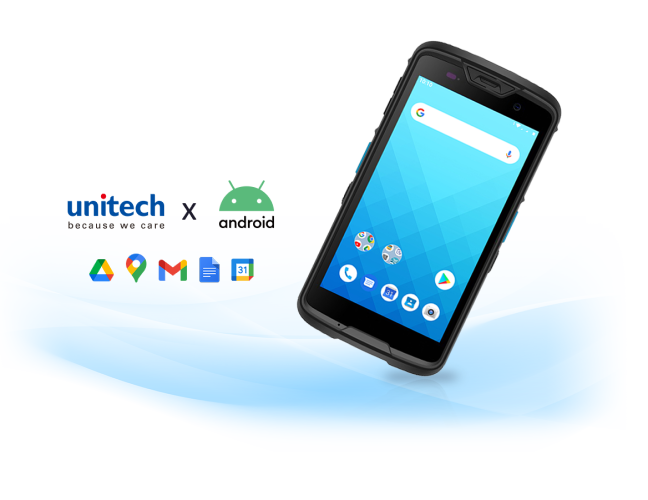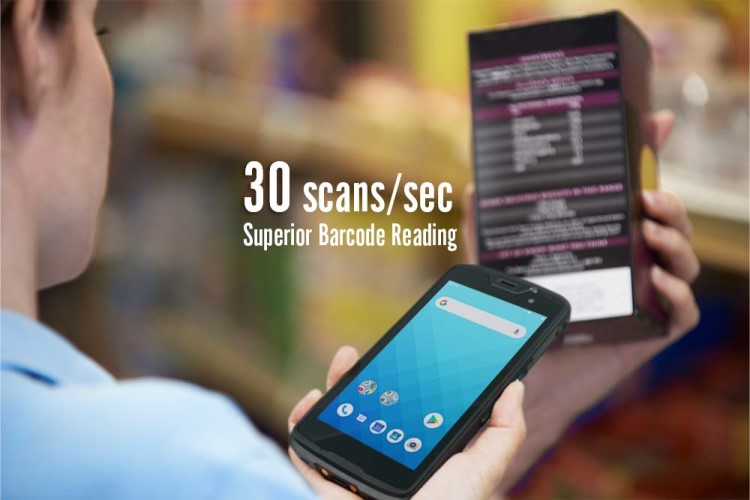 Powerful Barcode Reading Performance
Featuring powerful 1D/2D scanning capability, it also supports DPM codes and ensures read reliability for mobile phone screens and paper in any orientation. Powered by a removable 4250mAh battery, it is an integrated HF/NFC RFID reader/writer, GPS, and a high-resolution 13MP camera in a compact device. The Unitech EA520 gives your workforce the technology it needs to take your business to the next level.
Durable at Its Best
The Unitech EA520 enhances the industrial durable protection with features including IP67 dustproof, waterproof, and 1.5 meters resistance to fall protection (1.8 meters with boot case). That means it covers fully protected from dust and can survive in 1 meter of water for up to 30 mins.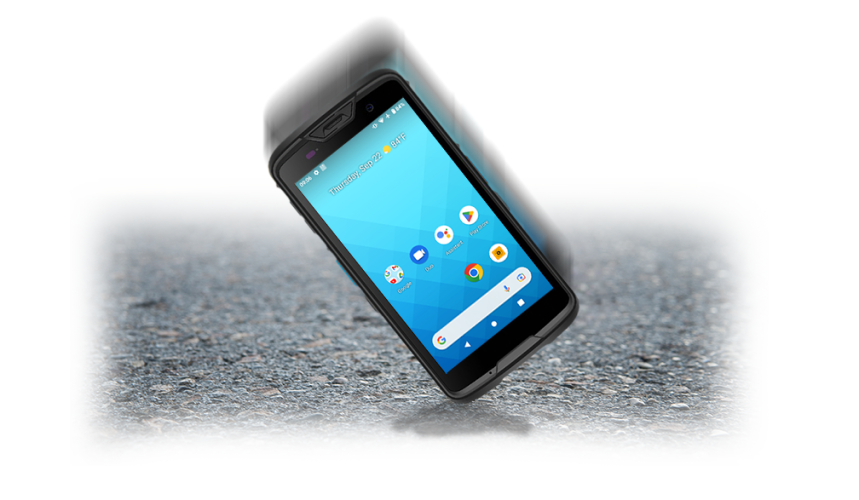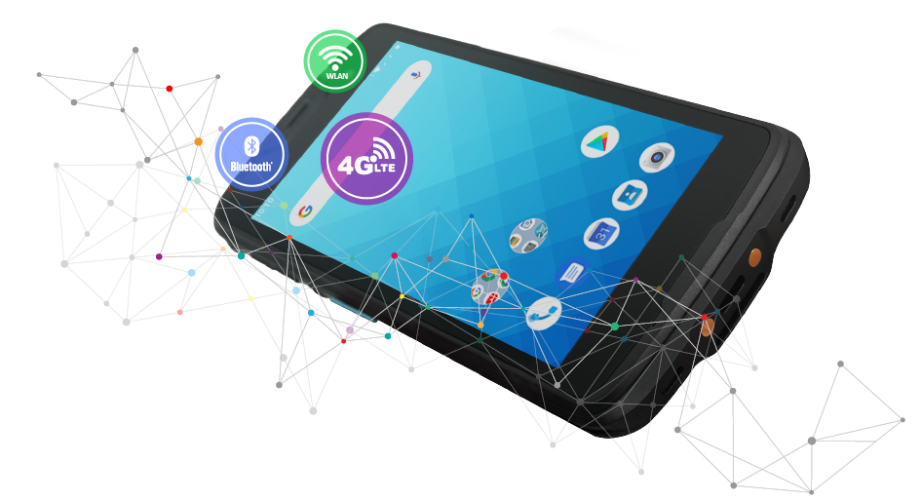 Seamless and Connectivity
Featuring Bluetooth® 5, wireless dual bands with fast roaming and 4G connectivity for real-time data collection, staff can scans the item and instantly connect to the backend system to find out the quantity in stock or make an online order for customers. The Unitech EA520 delivers a seamlessly work experience and improves productivity for various applications.
Specially Designed for Portability
The Unitech EA520 can improve service quality of various vertical applications within the retail, logistics, hospitality, and field service industries.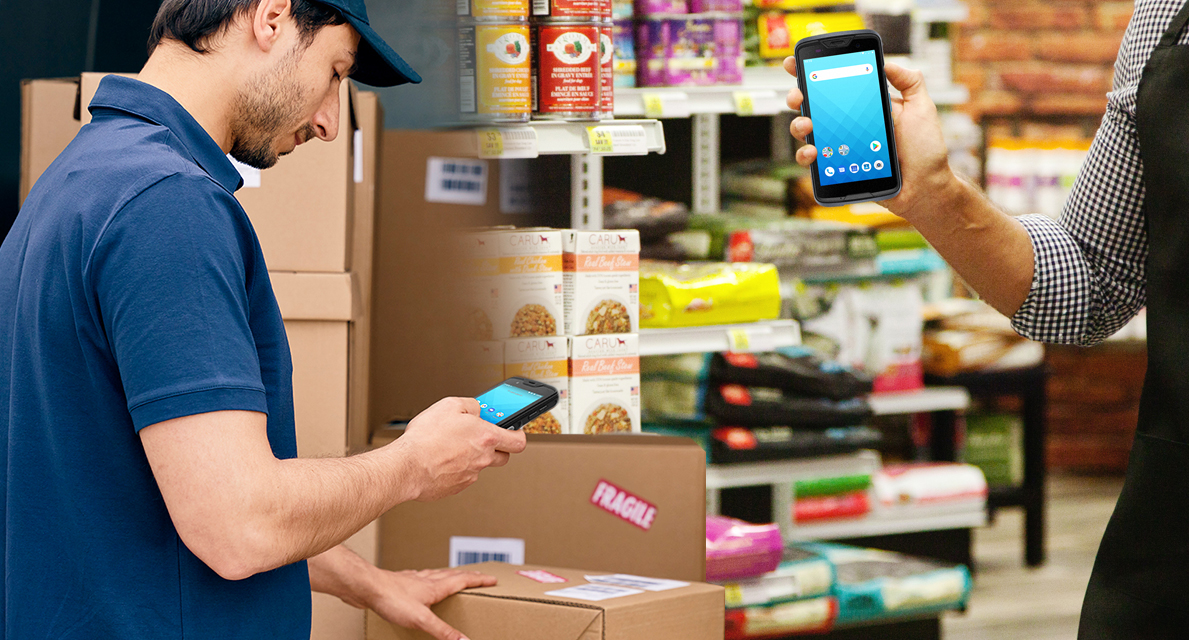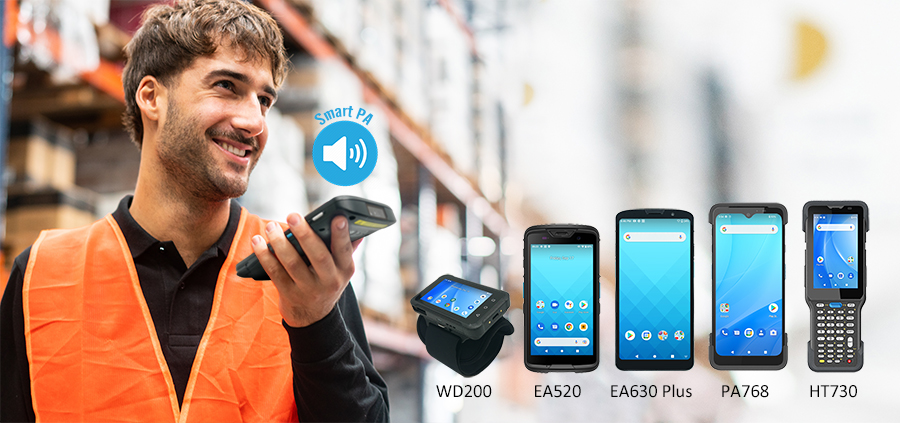 SmartPA: Better Audio Output 
SmartPA (Power Amplifier) takes full advantage of the relatively smaller speaker to enhance better sound quality with maximum volume. Under distracted scenarios or noisy environments, outdoor workers access messages through a clearer, more natural, and high-quality audio experience while speaking on the mobile computer. The built-in SmartPA solution detects the current and voltage in speaker mode and minimizes circuit/ temperature damage, providing seamless communication between coworkers to achieve productivity.
Optical Character Recognition (OCR)
• Easily convert numbers or characters to digital formats on cardboards, paperwork, electronic chips.
• Minimize the typing mistakes when entering the numbers.
• Streamline your tedious typing process.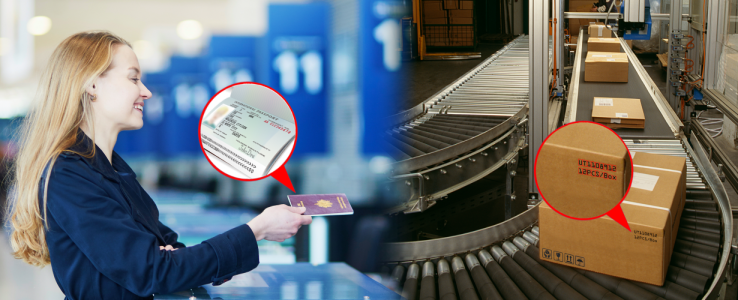 Unitech EA520  Specifications

FEATURES
---
Camera
Rear 13MP with LED flash
Front 5MP
DIMENSIONS
---
Overall Dimensions
Dimensions 151.1mm x 76.8mm x 13.7mm
Weigh 246g (with battery)
SCANNING SPECIFICATIONS
---
Decode Capability
Support all major 1D and 2D barcodes
NETWORK
---
Bluetooth Specifications
Bluetooth® 5 supported
WLAN Specifications
802.11 a/b/g/n/ac/d/e/h/i/j/k/r/v, 2.4G+5GHz,
Support fast roaming, VoWiFi, hotspot.
Compliant with WFA, WPA/WPA2
NFC
Integrated Near Field Communication
WWAN
4G LTE FDD: B1/B2/B3/B5/B7/B8/B20/B28A/B28B
TDD: B38/B39/B40/B41
3G WCDMA: B1/B5/B8
2G GSM: 850,900,1800,1900MHz
SOFTWARE & FIRMWARE
---
Operating System
Android 11 with GMS
MEMORY & DATA
---
Memory

64 GB Flash/4 GB RAM (128GB option)
Storage
Supports up to 512GB using ExFAT file system
HARDWARE
---
Display Resolution
TFT-LCD HD (720 x 1280)
Processor
Octa-core 2GHz Processor
ELECTRICAL
---
Battery Type

3.85V 4250mAh Li-ion battery.

Removable
ENVIRONMENTAL
---
Storage Temperature Range
-40°C to 70°C (-40°F to 158°F),
Operating Humidity
5% ~ 95% (Non-Condensing)
Operating Temperature
-20°C to 60°C (-4°F to 140°F)
STANDARDS & APPROVALS
---
Rain / Dust Proof
IP67 per IEC 60529
Drop Specifications
1.8 meter with bumper
1.5 meter without bumper
Tumble 600 times (1.6 ft./0.5 m)
SERVICE TERMS
---




If you have a problem with your Unitech EA520  then pleaase use the link below to get an online RMA
Request a Quote
Do you need a number of terminals. Let us know the hardware configuration and we'll get back to as soon as possible.
Request Help
If you need any technical assistance regarding your terminals then please dont hesitate to contact us.
Knowledge Base – Unitech EA520
Soft Reset - Warm Boot
Unitech EA520 Soft Reset – Warm Boot
Perform a soft reset if applications stop working.
1. Press and hold the Power button until the menu appears.
2. Touch Restart.
The device reboots.
Hard Reset - Cold Boot
Unitech EA520  Hard Reset – Cold Boot
CAUTION: Performing a hard reset with a microSD card installed in the device may cause damage or data corruption to the microSD card. All un-saved data is lost after performing a hard reset.
To restart the computer if the touch panel display is unresponsive:
• Press and hold the Power button for approximately 10 seconds until the computer restarts.
Factory Reset
Unitech EA520  Factory Reset
A full factory reset should only be performed if you have exhausted all other troubleshooting options.
Caution: Factory data reset will erase all personalized settings and data saved in the device, such as Google account, apps, user data, etc. the factory data reset cannot be undone.
Note: This method of recovery may not be available if your system administrator has set policies to prevent the reset use.
Before you begin
If you added a Google Account to the mobile computer, make sure you have your Google username and password associated with the computer. If you do not have the username and password, you will not be able to use the mobile computer after the reset. This is a security measure that prevents unauthorized users from using the device if they try a Full factory reset.
If you did not add a Google Account to the mobile computer, the extra security level is not enabled, and you will not need a Google username and password.
If you recently reset your Google Account password, wait 24 hours before performing an Enterprise data reset.
Connect the computer to an external power source or make sure you have a full battery charge.
Make sure you have an Internet connection.
Factory Reset the Mobile Computer – From the Operating System
Swipe up from the bottom of the home screen to access all applications.
Select Settings > System >  Reset Options.
Tap Erase All Data (Factory Reset)
Tap Erase All Data
If prompted, type your screen lock security patter, PIN, or password, and tap Next.
Tap Erase All Data. A message appears informing you a Factory Rest is being Performed.
Terminal will reboot.
Factory Reset the Mobile Computer – From the Bootloader/Recovery Mode
Press and hold the Power Button.
From the menu that will appear on the screen select to Power Off.
Press and hold Power Button and Volume Down buttons simultaneously.
…
…

…
…

…
Terminal will reboot.
EA520-NAHFUM3G Unitech EA520, 2D imager (SE4710), Android 11, 4GB/64GB, WLAN, 4G/LTE (Worldwide/EU), 4100mAH