Zebra RS5000 1D/2D Corded Scanner
Zebra RS5000
IMPROVE THE PRODUCTIVITY OF YOUR ZEBRA WEARABLE COMPUTER USERS WITH  COST-EFFECTIVE HANDS-FREE 1D/2D SCANNING
Want to maximize the productivity of your Zebra wearable computer users? With Zebra's hands-free Zebra RS5000 ring scanner, you can. Your workers can capture virtually any barcode at lightning speed with point-and-shoot simplicity — 1D or 2D, in virtually any condition. When it comes to comfort, the Zebra RS5000 delivers — this lightweight, perfectly-balanced little scanner is worn on a single finger on either hand, leaving both hands free to handle materials.
WIDE WORKING RANGE
Workers can capture barcodes from near contact to over 25 in./63.5 cm.
PRZM INTELLIGENT IMAGING FOR UNPARALLELED SCANNING PERFORMANCE
Only from Zebra, PRZM resets the bar for imaging by providing features that reduce decode time, enabling lightning fast capture of virtually any barcode in any condition.
OMNI-DIRECTIONAL SCANNING FOR POINT-AND-SHOOT SIMPLICITY
Users never need to align the barcode and the scanner, reducing training requirements and enabling intuitive and rapid barcode capture.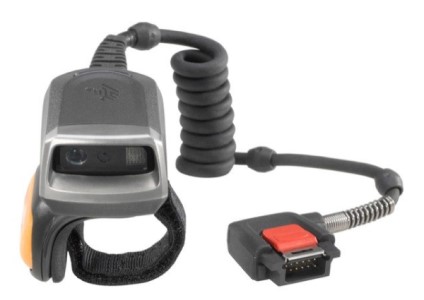 Zebra RS5000 1D/2D Corded Ring Scanner
MAXIMIZE WORKER PRODUCTIVITY AND THE VALUE OF YOUR ZEBRA WEARABLE COMPUTERS WITH THE RS5000

The Zebra RS5000 ring scanner is designed for challenging warehouse and manufacturing environments. Designed for subzero environments, it can be used in your warehouse aisles and in the freezer. It can withstand a 4 ft./1.2 m drop across the entire operating temperature range — a must for freezer use. Even after 1,000 consecutive bumps, the Zebra RS5000 delivers reliable operation. And with its IP65 sealing, this rugged scanner is dust-proof and spray-proof.

Using Zebra's multi-modal solution, you can boost worker productivity by 15% – with 39% fewer errors than typical speech-only wearables.  Pairing the Zebra WT6300 wearable computer with the Zebra RS6000 RS5000 RS4000 ring scanner, Zebra HS3100 HS2100 headset and TekSpeech Pro 4 software, give workers the hands-free mobility they need to boost productivity to a new level.
Dimensions
2.67 in. L x 1.10 in. W x 0.83 in. D (2.4 cubic inches)
61 mm L x 28 mm W x 21 mm D
Drop Spec
Multiple 6 ft./1.8 m drops to concrete over the operating temperature range
Connectivity and Pairing
NFC; Tap to Pair
Bluetooth Class 1 and 2
Bluetooth v4.0 with Bluetooth Low Energy (BLE)
Weight
2.47 oz./70 g
Operating Temp
32° F to 122° F/0° C to 50° with standard battery
-4° F to 122° F/-20° C to 50° with extended battery
Scanning Options
SE4710 or SE4770 1D/2D standard range imaging engines



If you have a problem with your Zebra RS5000 then pleaase use the link below to get an online RMA
Request a Quote
Do you need a number of terminals. Let us know the hardware configuration and we'll get back to as soon as possible.
Request Help
If you nned any technical assistance regarding your terminals then please dont hesitate to contact us.