Zebra RS5100 Bluetooth Wearable Scanner
Zebra RS5100 Bluetooth Wearable Scanner
THE 'GO-EVERYWHERE' WEARABLE SCANNER BUILT FOR THE ENTERPRISE
Today's workers have high expectations for wearable devices — a modern design, a minimal footprint and so easy to use that virtually no training is required. Your business requires a design that's at home in both customer-facing areas and the warehouse, multiple wearable options for maximum use case flexibility, a rugged design to ensure a long lifecycle with a low Total Cost of Ownership (TCO), scanning options that match the needs of your environment, plus backroom accessories that reduce management time and cost. Now, you can have it all with the Zebra RS5100 Bluetooth Wearable Scanner.
FIVE INTERCHANGEABLE WEARING STYLES
Regardless of hand size or use cases, there's a wearable option that will provide all day comfort. The new Enterprise Hand Mount offers maximum flexibility — a range of sizes for right and left hands with an adjustable scanner position and aiming angle. Wear it like a ring on a single finger, with multiple options for trigger placement. Wear it on a belt or around the neck with the retractable lanyard — or on a back-of-hand mount designed to reach into small spaces.
WIRELESS AND PRACTICALLY WEIGHTLESS
At just over two ounces and two cubic inches, your workers will barely feel the Zebra RS5100, virtually eliminating hand fatigue. And Bluetooth provides freedom from cords — there are no cables to the host device for workers to manage, improving ergonomics and the user experience.
A RUGGED DESIGN WITH WORLD-CLASS SCANNING
The best-in-class rugged design can handle drops, bumps and even a high-pressure hose down — and the trigger is rated for millions of presses. Two scan engine options instantly capture virtually any barcode in practically any condition. And the wider field of view makes barcode capture even easier.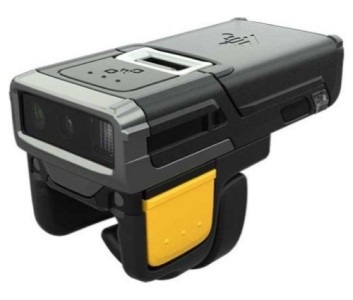 Zebra RS5100 Bluetooth Wearable Scanner
THE 'GO-EVERYWHERE' WEARABLE SCANNER BUILT FOR THE ENTERPRISE
The Zebra RS5100 sets a new standard for wearable rugged Bluetooth ring scanners. Workers get featherweight comfort, ergonomic mounting options, maximum ease-of-use, plus reliable point-and-shoot scanning on every barcode. The Zebra RS5100's rugged design is built for industrial environments like the warehouse and manufacturing floor, while its modern design and small footprint make it equally suited for customer-facing areas. You also get a long lifecycle, industry-leading scanning options to meet different needs and backroom accessories that reduce management time and cost.
Dimensions
2.67 in. L x 1.10 in. W x 0.83 in. D (2.4 cubic inches)
61 mm L x 28 mm W x 21 mm D
Drop Spec
Multiple 6 ft./1.8 m drops to concrete over the operating temperature range
Connectivity and Pairing
NFC; Tap to Pair
Bluetooth Class 1 and 2
Bluetooth v4.0 with Bluetooth Low Energy (BLE)
Weight
2.47 oz./70 g
Operating Temp
32° F to 122° F/0° C to 50° with standard battery
-4° F to 122° F/-20° C to 50° with extended battery
Scanning Options
SE4710 or SE4770 1D/2D standard range imaging engines






If you have a problem with your Zebra RS5100 then pleaase use the link below to get an online RMA
Request a Quote
Do you need a number of terminals. Let us know the hardware configuration and we'll get back to as soon as possible.
Request Help
If you nned any technical assistance regarding your terminals then please dont hesitate to contact us.