Point Mobile PM5 Wearable Bluetooth Barcode Scanner
Point Mobile PM5 Wearable Barcode Scanner
FULL SCANNING CAPABILITY RIGHT ON YOUR FINGER
With the incredibly light and the ambidextrous form factor that fits perfectly on your finger, the Point Mobile PM5 was built for heavy and long scanning tasks. For more flexibility, there is an optional USB-C bracket to use Point Mobile PM5 as a standalone scanner.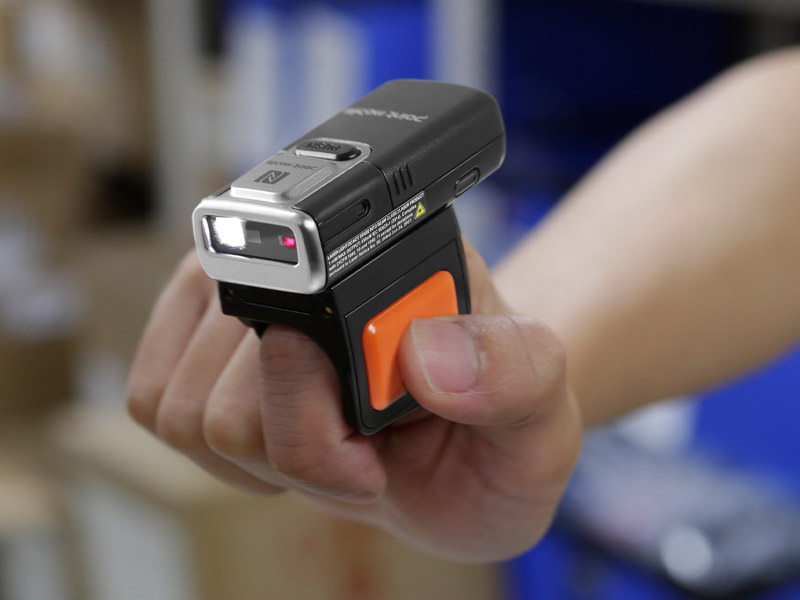 Our newest wearable scanner making heavy-duty light
The Point PM5 is a rugged scanner designed to withstand harsh working environments. It can survive multiple drops to concrete from 1.8m/6 ft. over the operating temperature range and is equipped with IP65 grade water/dust resistance.
Easy pairing for using the full power of our mobile computers
Equipped with power-efficient Bluetooth v4.2 supporting BLE, the Point Mobile PM5 can operate up to 8 hours despite its small size. This also allows fast and no-delay data transfer to Point Mobile's rugged computing devices.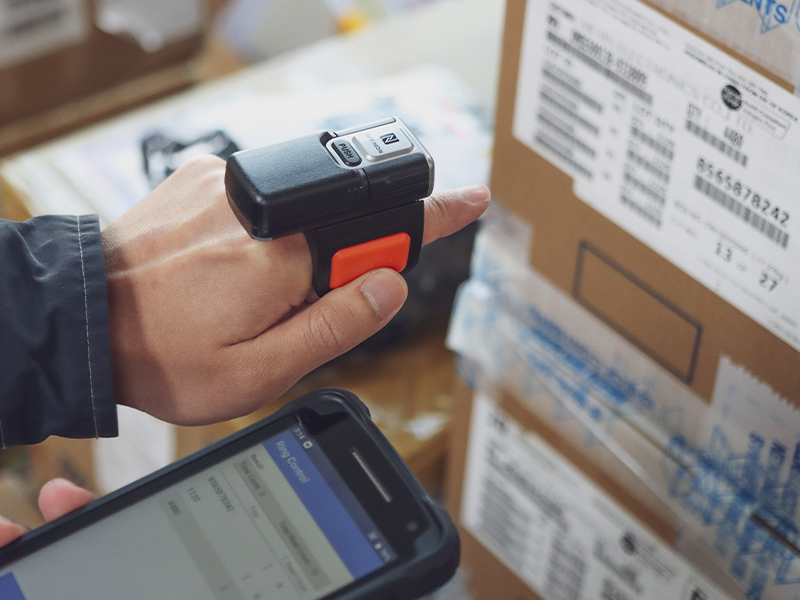 Don't stop moving just to scan a barcode
Inside of Point Mobile PM5 lies an ultra-slim 2D imager which can tolerate motion speed of up to 6.0 m/s, easily capturing fast-moving objects with accuracy. You can also scan while moving your hands, making no interruption on your workflow.
Point Mobile PM5 Specifications
FEATURES
---
DIMENSIONS &WEIGHT
---
Dimensions

61 mm L x 28 mm W x 21 mm D

2.4 in L x 1.1 in W x 0.8 in D



SCANNING SPECIFICATIONS
---
Decode Capability

Honeywell N6703 Ultra slim 1D/2D barcode scan engine
NETWORK
---
Bluetooth Specifications

Integrated Bluetooth Class I+II, Ver. 4.2

BLE support

Tap to Pair
SOFTWARE & FIRMWARE
---
Supported OS

Android, Windows
MEMORY & DATA
---
Memory

128KB RAM

1MB (PGM), 4MB storage
HARDWARE
---
Processor
32-bit ARM® Cortex® processor, 120MHz
ELECTRICAL
---
Battery Type

510mAh Li-ion (Standard)




700mAh Li-ion (Extended)
ENVIRONMENTAL
---
Storage Temperature Range
-40°C to 70°C  (-40°F to 158°F)
Operating Humidity

0 – 95% Non-condensing
Operating Temperature
0°C to 50°C (32°F to 122°F)
STANDARDS & APPROVALS
---
Drop Specifications
MIL-STD-810G for multiple 1.8m (6ft) drops
on concrete
SERVICE TERMS
---




If you have a problem with your Point Mobile PM5 then pleaase use the link below to get an online RMA
Request a Quote
Do you need a number of terminals. Let us know the hardware configuration and we'll get back to as soon as possible.
Request Help
If you need any technical assistance regarding your terminals then please dont hesitate to contact us.
Knowledge Base – Point Mobile PM5
Soft Reset - Warm Boot
Point Mobile PM5 Soft Reset – Warm Boot
Perform warmboot when you want to restart the Point Mobile PM5. LED indicator will light on blue during warmboot process
1. Press and hold the Power button for 3 seconds.
Factory Reset
Point Mobile PM5 Factory Reset
A full factory reset should only be performed if you have exhausted all other troubleshooting options.
To reset all setting values as default, perform factory reset. LED indicator will light on red during factory reset process.
Note: Factory reset will erase all customized configuration of Point Mobile PM5, device settings, symbologies settings, Bluetooth pairing information.
Factory Reset the Point Mobile PM5 when in Run or Low Power Mode
Press Reset Button until the blue LED blinks for 5 seconds.
While LED blinks, press and release Reset Button and Scan Button on single trigger or sled simultaneously
Factory Reset the Point Mobile PM5 when Not Powered On
Press Reset Button immediately after pressing Scan Button on single trigger or sled to power on Point Mobile PM5.
You can perform a factory reset using RingControl (Lite) app or parameter barcode.
See the application's user guide to find how to perform the factory reset with the app, or Factory Data Reset  within the User Guide to find the parameter barcode.
PM500B6212N0 Point Mobile PM5 – N6703, Single Trigger, Standard battery capacity
PM500B6222NX Point Mobile PM5 – N6703, Single Trigger, Extended battery capacity
PM500B6312N0 Point Mobile PM5 – N6703, SLED, Standard battery capacity
PM500B6322N0 Point Mobile PM5 – N6703, SLED, Extended battery capacity